NPR is often regarded — and certainly regards itself — as a leader in the diversity of voices and opinions it puts on air. It's known for compelling story-telling that regularly wins prestigious journalism awards.
But when it comes to female voices from outside NPR, the network is not as diverse on air as it would like to think. NPR needs to try harder to find more female sources and commentators.
I will say upfront that NPR is and has been an industry leader with female correspondents and hosts. Three out of the five hosts of its biggest shows — Morning Edition and All Things Considered — are women. The CEO and the head of the news department are women, as are many other top executives throughout the company.
But what about commentators and news sources?
My office researched the number of female commentators who appear on air regularly, along with the number of females who are interviewed or quoted in stories on ME, ATC and the weekend counterparts.
The news is not encouraging, though NPR is trying to do something about it.
Admittedly, the relative lack of female voices reflects the broader world. The fact remains that even in the fifth decade after the feminist revolution; men are still largely in charge in government at all levels, in corporations and nearly all other aspects of society. That means, by default, there are going to be more male than female news sources.
ON-AIR FEMALE COMMENTATORS
But NPR does have a choice when it comes to the weekly commentators selected by the shows. Men are favored over women, by far.
With the aid of NPR librarian Hannah Sommers, we compiled a list of regular commentators, who are not NPR employees but are paid to appear on air. There are 12 outside commentators who appeared at least 20 times in the last 15 months. The only woman is former NPR staffer, Cokie Roberts (51 times), who is on ME most Mondays talking politics.
Otherwise, males dominate, especially on subjects of sports, politics and the economy.
On ME, the numbers are: sports commentators Frank Deford (61) and John Feinstein (27), Wall Street Journal economics editor David Wessel (46), and Los Angeles Times movie reviewer Kenneth Turan (42) — all in the last 15 months.
On ATC, there's sports commentator Stefan Fatsis (46), technology guru Omar Gallaga (47), and book reviewer Alan Cheuse (48– 6 were on Weekend ATC). On Fridays, columnists E.J. Dionne (58) and David Brooks (53) talk politics.
On Weekend Edition Saturday, Scott Simon regularly chats about sports with ESPN's Howard Bryant (34).
On Weekend All Things Considered, host Guy Raz regularly discusses the world with journalist James Fallows (25).
ON-AIR FEMALE SOURCES
We also looked at the number of people from outside NPR who were interviewed by NPR news shows, or whose voices appeared in reporters' stories. For this analysis, we examined 104 shows, using a 'constructed week'* sampling technique from April 13, 2009 to Jan. 9, 2010.
Those figures are equally discouraging.
NPR listeners heard 2,502 male sources and 877 female sources on the shows we sampled. In other words, only 26 percent of the 3,379 voices were female, while 74 percent were male. [See chart.]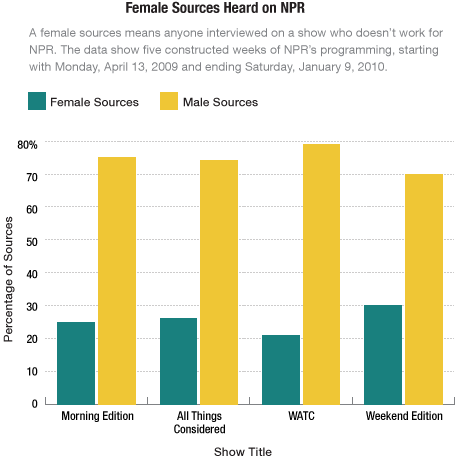 The news is much better when you look at just the gender breakdown of voices of NPR reporters and hosts. It's nearly 50-50, with the exception of Weekend All Things Considered, which has only a male host. [See chart.]
Even when you combined the two groups — NPR staffers and non-NPR voices — the male-female imbalance is still noteworthy, with the exception of Weekend Edition Saturday and Sunday, which have an equal proportion of male-female voices. [See chart.]
"The ratio of male-female sources you found is dismal," said Sheila Gibbons, who edits the Media Report to Women, which covers issues on women and media. "For listeners it suggests that there aren't many women with something important to say about the key issues of the day. It follows that they don't have a very big roles in shaping what those issues are, or making policy to deal with them. That's nonsense, of course."
I also ran the data past Jehmu Greene, president of the Women's Media Center, which works to get more women sources in the media.
"If you look at hosts and correspondents, NPR is a leader when it comes to making sure there is gender equality," said Greene.
"Many times we hear there are no women, or there are more men to tap into as experts," said Greene. "I think that's a mindset that is common in the media. Clearly, it is worth it to do the extra work for the story to get the female perspective which many times can be different, unique and necessary."
ME host Steve Inskeep took issue with the data because it counts all sources as the same — without considering the amount of time each voice is on air. He wondered, for example, if it should be counted as equal when celebrity journalist Tina Brown is on for 8 minutes and the president is on for 45 seconds? Inskeep also noted that President Obama, by himself, represented a large percentage of the times males appeared on air, thereby single-handedly skewing the figures.
"You yourself acknowledge that if more men appear, it may reflect 'societal' factors like the preponderance of men in certain fields," wrote Inskeep in an email. "So I just find this study really unsatisfying, and wish you'd take it back for further refinement. Probably you'd still find men getting more attention than women. Maybe you'd even identify specific areas where we fall short."
Inskeep said he agreed that NPR "can find a wide range of voices, and that we should. There are some obvious go-to guys on NPR, many of whom tend to be guys. Speaking only for myself, sometimes it's hard work to make sure that my stories include a wide range of people, including women. I think I do better than I used to, and not well enough."
Inskeep is right that the data could be stronger. But I'm not a social scientist, and I do not intend this to be a comprehensive academic study. My goal is to get NPR journalists to think more seriously about integrating female sources into stories and work harder at getting them on shows. The same is true for the voices of blacks, Hispanics, and other minorities.
NPR is not blind to this.
The network just launched a pilot project scouting for new voices for on-air interviews and potential sources. Carol Klinger, who has been booking interviews for ATC since 1995, has a temporary assignment of cultivating new sources for all of NPR.
"The objective is to make NPR a better and stronger news organization by providing our audience with a greater range of content, ideas and expertise," wrote Ellen Weiss, NPR's senior vice president for news, explaining the project.
The goal is to identify and audition new, diverse voices and widen perspectives in stories. Klinger is focusing on new sources in politics, arts and national security.
"The question [Klinger] is asking right now: Who's missing from our coverage of these topics as experts, analysts, commentator or sources of stories?" wrote Weiss. "In one area we may find opportunities to hear from a greater variety of people of all ages; in another area we may find we want more male or female voices. In another, people of color."
Klinger has a tough job. She says, in many cases, women say they are too busy, while men seem more willing to rearrange their schedules to go on the air. In other cases, some women will speak on background, but not on the record. In general, men seem less concerned than women about blow-back from their employers, clients or colleagues.
The radio format also poses challenges to finding new voices, as Klinger notes. "Just because someone is very smart doesn't mean they are good on air," she said. "We need people who are confident and dynamic. We've done a lot of interviews with men and women that we've killed because they lack confidence on the air."
I applaud NPR's efforts, and hope they result in shows reflecting a greater wealth of experiences and voices.
It's not going to be easy. "Unconscious bias flows through our lives in many different ways, and it is not easy task to disentangle all strands," said Shankar Vedantam, author of The Hidden Brain, a book about unconscious bias. When he worked at Knight-Ridder's Washington, DC bureau, two editors insisted every story have at least one female source.
Initially he resisted.
"By month two, I for one was happily following the directive, not in the interest of equity but because it was allowing me to write better stories," said Vedantam, who is now a Washington Post reporter. "The spirit in which these policies are implemented and followed matters a great deal. [But] the number of females sources in our stories rose, our stories got better, our jobs got easier."
NPR could try a similar directive. But right now, NPR can improve its shows simply by adding more female commentators. That doesn't mean getting rid of the men.
Are there really no women to alternate the political patter on Friday nights with Dionne and Brooks? Couldn't Maureen Corrigan (who reviews books for Fresh Air) split the book reviews on ATC with Cheuse? How about more Christine Brennan (8) on sports than Feinstein (26)?
These are just two of many possible examples. In January, women made up 49.9 percent of the nation's total non-farm payroll employment, according the Bureau of Labor Statistics. Clearly there are females out there with expertise in every field.
My study may not be scientifically perfect, but the skew is so lopsided that it demands attention.
"I doubt there is a conscious, systemic aversion to selecting women as sources at NPR," said Jill Geisler of the Poynter Institute, a media think tank. "But benign neglect is still neglect and its impact just as harmful to society."
When listeners don't hear women as sources and commentators on the air, they can get the impression that women aren't smart, aren't experts and aren't authoritative.
That's just not true.
[Caitlin Huey-Burns and Anna Tauzin, two terrific interns, contributed to the data gathering for this piece.]
Here are links to sources that help journalists find qualified female experts:
Shesource.org
Theopedproject.org
National Women's Editorial Forum
* Using what is called a "constructed week," we examined five NPR programs: Morning Edition, Weekend Edition Saturday, Weekend Edition Sunday, All Things Considered and Weekend All Things Considered. We started with Monday on April 13, 2009, then Tuesday, April 21, Wednesday, April 29 and so on until Saturday, Jan. 9, 2010. The study counted the gender of each person interviewed by the shows and each person whose voice appeared on tape in reported stories.
In this constructed week study, we did not count the gender of NPR or member station staff reporters, hosts and commentators. When a voice was translated from a foreign language, we counted the gender of the source, not that of the translator.
This column was originally published on NPR.org on April 2, 2010.