ANOTHER SHOP TALK ON THE WAY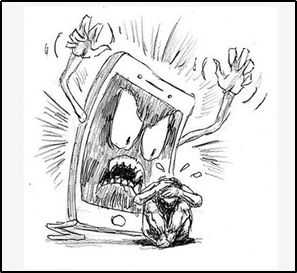 "2018_01_190100 – Cyber-Bullying (t1)" by Gwydion M. Williams is licensed under CC BY 2.0
Hot on the heels of our very successful AGM and the excellent shop talk by Kathy English, we are busy planning a new shop talk once the northern hemisphere summer is over.
A date has been proposed: Tuesday September 7th at 1200 UTC. Please hold the date!
We are delighted that Ricardo Sandoval-Palos, the Public Editor with the Public Broadcasting Service in the US, has agreed to join us to talk about his recent article entitled "Fake Hate".
Ricardo, an ONO member, explores the difference between genuine complaints and manufactured outrage. This is an issue that I am sure many of us have to deal with, often driven by social media campaigning and sometimes involving people who complain about news content they haven't even seen.
As ever, we look forward to as many members as possible joining us for this discussion, and please keep those ideas for future shop talks coming – we are keen to ensure they are as relevant and timely as possible.
ONO's numbers have been growing in recent months, and we are delighted to welcome some new members into our association.
In recent months, we have seen some important changes and additions:
This month, we have also seen two new members join us from the National NewsMedia Council in Canada.
Brent Jolly is the Managing Director of the Council, and Cara Sabatini is the Director of Dispute Resolution.
The National NewsMedia Council in Canada is a voluntary, self-regulatory ethics body for the news media industry in Canada. It was established in 2015 with two main aims: to serve as a forum for complaints against its members and to promote ethical practices within the news media industry.
The Council deals with matters concerning fairness of coverage, relevance, balance and accuracy of news and opinion reporting. The Council also, when appropriate, represents the public and the media in matters concerning the democratic rights of freedom of speech and freedom of the media.
Membership of news organizations supporting the Council includes most daily and community newspapers, news magazines and online news organizations across Canada
We are delighted to welcome Brent and Cara, and to include among our membership representatives of the kind of News Councils that exist in many countries around the world.
INDUSTRY AND MEMBER NEWS – What's New?
THE RIGHT TO BE FORGOTTEN GETS TOUGHER…?
"right to be forgotten" by Inmediahk is licensed under CC BY-NC 2.0
Many journalists and news organizations have been troubled by the "right to be forgotten" laws in Europe and how far they can go in restricting the role of the news media.
It has always been the case that certain information does NOT need to be removed from websites if it "represents important information that serves the public interest". However, it can be difficult to know the extent to which that protects journalists who believe they are reporting in the public interest.
For many, a recent decision has added to that concern. The Belgian newspaper Le Soir has been forced to remove identifying information from a story it filed in 2000 about a fatal road accident.
A man was convicted in relation to the accident, but having served his sentence, the Court has ruled that he can no longer be identified as the person responsible. The decision was that, as he was not a 'public figure', the article naming him was of no value in terms of newsworthiness.
Opinions will, of course, differ on the competing rights in these situations, but this recent decision is being seen in some quarters as having significantly strengthened the laws in this area.
Margo Smit                                                                                                            Alan Sunderland
ONO President                                                                                                ONO Executive Director