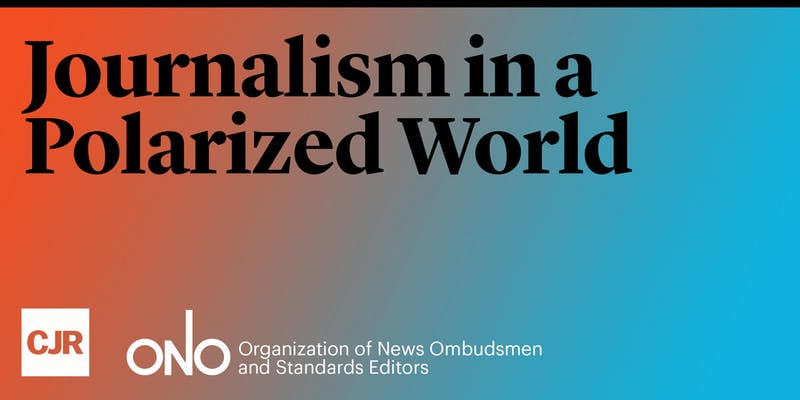 REGISTER NOW for the 2019 ONO@CJR Conference Journalism in a Polarized World
Wed, June 5, 2019, 6:00 PM – Sat, June 8, 2019,
Columbia Graduate School of Journalism
2950 Broadway
New York, NY 1002
United States
---
DESCRIPTION
ONO @ CJR
Never before have newsrooms been hit with such big challenges, across the globe, all at once. From questions about balanced coverage in a polarized age to the need for a more diverse workforce to the threats from disinformation and a lack of public trust, journalists must respond. But how?
Join the Organization of News Ombudsman and Standards Editors and the Columbia Journalism Review to tackle these critical questions. We'll be joined by news ombudsmen and standards editors from around the world, journalists on the front lines, and leading academics to debate and discuss how journalism can, and should be, responding to an era of historic change.
There will be a session looking at the use of live stream material in the recent New Zealand terror attack and the response by governments and regulators to the use of that material in television in the news media.
Join us for our discussions on:
Challenges the newsmedia in the US face reporting in partisan times
Reporting on Trump's taxes
Ensuring fair coverage in the Brexit Debate in the UK
The issues of live streaming and other reporting limitations concerning the Christchurch attacks
Unconscious biases in news reporting
Issues at the intersection of Facebook and responsible news coverage
Speakers will include
The founder of Craig's List, Craig Newmark
The Editor in Chief of BuzzFeed, Ben Smith
Reuters Global Editor Ethics and Standards, Alix Freedman
BBC's Director of Editorial Policy and Standards, David Jordan
CNN Executive Vice President of Standards, Richard Davis
Editor of Newsgathering at TVNZ's 1 News, Phil O'Sullivan
The New York Times Pulitzer-winning journalist Russ Buettner
Professor Raju Narisetti from the Columbia School of Journalism
Dr Cynthia Ottavanio Universidad Nacional de La Plata/Universidad Nacional de Avellaneda
NPR Ombudsman Elizabeth Jensen
---
EVENT DETAILS
Opening reception ; Wednesday 5 June, 6pm at The West 79th Street Boat Basin Café
Each day of the conference commences at 9am and will conclude at 5pm at Columbia Graduate School of Journalism
Conference dinner; Friday 7 June, Classic Harbor Line, Yacht Manhattan 11, departing Chelsea Piers, Pier 62 at 7pm.
Please note
The number of places on the boat are strictly limited and they will be filled on a first come first served basis, starting with ONO members.
---
REGISTRATION DETAILS
Please complete the registration form below.
Registration will only be complete once payment is received.
Once payment has been received you will receive an official receipt from ONO. All you will need to do is to present that receipt to ONO registration person at the first event you attend.
The easiest way to pay is via PayPal using the donate now link at the bottom of the ONO webpage.
Please note that you will receive a receipt of payment and that is your confirmation of registration. If you have any questions email sally.begbie@sbs.com.au
REGISTRATION CLOSES ON 22 MAY, 2019.
**Please note that registrations received after this date will be unable to attend the conference diner

---
REGISTRATION FORM
---
CONFERENCE INFORMATION
Please note that all information about the conference will be delivered electronically including a full program and all event details.
Please note; if you have not received any emails from ONO please check your junk folder.
---
CONFERENCE FEE
$500 USD per delegate
$150 USD per accompanying person, only for ONO members who are bringing an accompanying person as per normal arrangements .
---
PAYMENT OPTIONS:
Bank Wire
Bank Name: Wells Fargo Bank, N.A. San Francisco CA
Swift Code: WFBIUS6S (international wires)
Account number: 1921034540
Account title: Organization of News Ombudsmen Inc.
PayPal:
Use the Link on the ONO website www.ombudsmen.org
Click on Support ONO
You can also go directly to PayPal and use the email address
Rebradley52@gmail.com
Transferwise:
Use for transfers from outside the United States.
You cannot use this for Transfer within the US. It helps avoid the high fees banks charge.
https://transferwise.com/
You must create an account on Transferwise.com.
Use these banking details to send funds to ONO:
Bank Name: Wells Fargo Bank N.A. San Francisco CA
Routing number: 121000248
Account number: 1921034540
Account title: Organization of News Ombudsmen Inc
Address of ONO: 17905 S Camino Confianza Sahuarita AZ 85629
Email: rcarlton9@cox.net


---
CONFERENCE ENQUIRIES
All conference enquires can be sent to sally.begbie@sbs.com.au
---
Become a Member of the Organization of News Ombudsmen (ONO)

Bjarne Schilling – Our President
Bjarne Schilling was appointed Readers' Editor at Politiken, Denmark's largest morning paper, in 2010. The Readers' Editor acts as the readers' representative in order to safeguard journalistic principles of transparency and fairness in reporting, dealing with complaints and reviewing editorial performance, thus demonstrating that Politiken genuinely cares about and responds to public concerns about how it is serving its readers.
Get the Handbook
This 51-page guide, "The Modern News Ombudsmen: A User's Guide," was written by the group's then executive director Jeffrey Dvorkin. It's a must have guide!
Member Spotlight
Meet Margo Smit, Ombudsman for all of all the journalistic programming and production of the Dutch public broadcasting networks.
What's it like being a Public Editor in Japan? In 2015, the Asahi Shimbun became the first Japanese news organisation to establish such a role.
ONO Member Ms. Reiko Yamanoue currently holds the position, and as this article from Asahi Shimbun staff writer Yumiko Harashima makes clear, the role can have it's challenges! Read on…
Latest From Our Blog
Posted by ONO Administrator
In the last week, news outlets reported on two high profile suicides. Here's what CBC's Journalistic Standards and Practices has to say on the subject: We are sensitive in our handling of suicides, suicide attempts and desperate acts. In particular, … Read More

Featured Post
Posted by ONO Administrator
Working journalists and academics alike have been spending a lot of time thinking about ways to restore trust in their work, and to help citizens discern reliable solid reporting from the masses of flimsy and utterly false information that bombards … Read More

Featured Post
Posted by ONO Administrator
Most people have heard of ESPN. It's a world leader in sports and sports news broadcasting, with a global reach and unprecedented influence on standards of sports coverage and sports reporting. A few days ago, it announced a significant change … Read More

Featured Post